Boost Your Business
Elevate productivity, unleash your team's potential, and ignite success with CURVD Earplugs. Transform your workplace, cultivate a culture of productivity, and create an environment where your team thrives.
Get CURVD
Elevate Productivity, Unleash Potential!
CURVD for the Workplace
In today's fast-paced business world, maximizing productivity is crucial for success. CURVD Earplugs are the secret weapon to create an optimal work environment, boost team focus, and unlock the full potential of your business.
CURVD Earplugs provide a shield against distracting noise, allowing your team to enter a state of flow and deep concentration. By minimizing external disturbances, CURVD empowers your team to stay focused, accomplish tasks with precision, and achieve remarkable results.
CURVD Earplugs create an oasis of calm amidst the chaos, fostering a positive and productive atmosphere for your team. By reducing stress-inducing noise, CURVD helps to boost team morale, satisfaction, and overall well-being, resulting in happier and more engaged employees.
With CURVD Earplugs, your team can reach new heights of productivity, efficiency, and success. By optimizing focus and collaboration, CURVD empowers your business to achieve outstanding results, surpass goals, and stand out in a competitive landscape.
CURVD Earplugs are not limited to individual workstations; they are your team's productivity companion in various settings. From open office spaces to brainstorming sessions, meetings, and conference calls, CURVD ensures that distractions are minimized, allowing your team to focus on what truly matters.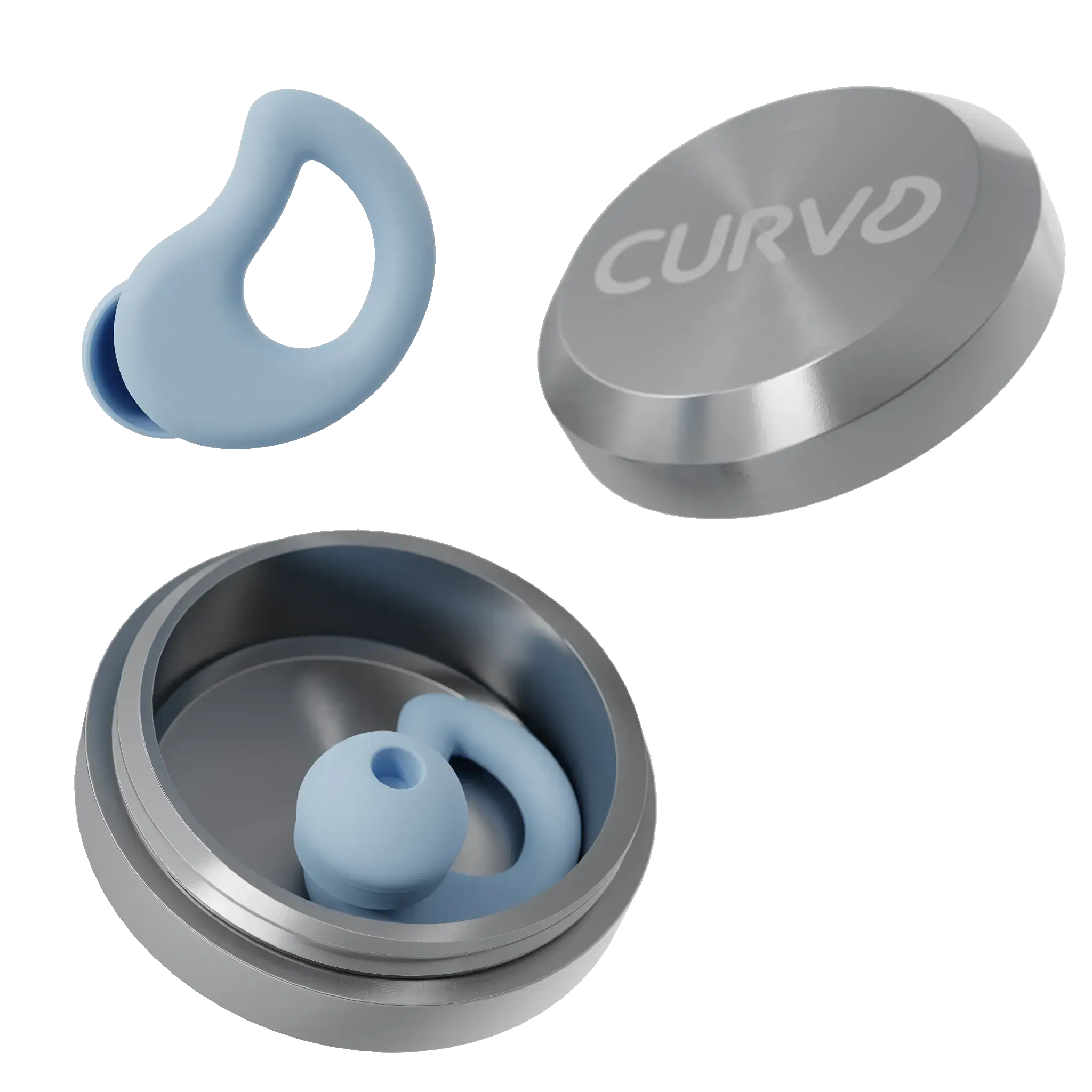 Work Smarter
Elevate productivity, unleash your team's potential, and ignite success with CURVD Earplugs. Transform your workplace, cultivate a culture of productivity, and create an environment where your team thrives.
Order CURVD Earplugs for your team today and unlock the power of enhanced productivity. Boost happiness, increase efficiency - CURVD has your business covered!
We strive to deliver your order as quickly as possible. Our standard shipping timeframe for bulk orders is typically 7-10 business days. However, we often exceed these expectations and deliver your order sooner. If you require expedited shipping, please contact our sales team, and we'll do our best to accommodate your request.
Do you ship outside the US?

Absolutely! We offer international shipping to most destinations outside the United States. If you are an international company interested in purchasing CURVD Earplugs for your team, simply fill out the form, and our sales team will promptly get in touch with you to assist with your order. Comfort, focus, and tranquility know no borders, and neither do we.
What's the minimum order quantity?

We cater to teams of all sizes, whether big or small. While our standard minimum order quantity for bulk orders is 20 units, we understand that every team's needs may vary. Fill out the form, and our dedicated sales team will work with you to accommodate the specific requirements and size of your team.
Do I get a discount when ordering for my team?

Certainly! We value our customers and offer volume discounts when you order 20 units or more. Get in touch with us to learn more about our CURVD for Teams program, specially designed to elevate your team's potential and help them stay focused and in the zone.
Are CURVD Earplugs good corporate gifts?

Absolutely! We believe the gift of peace and focus is invaluable for any corporation. That's why we highly recommend CURVD Earplugs as corporate gifts. Give your team the gift of serenity. Contact our sales team today to place an order for your team's gifts.
What environments are CURVD Earplugs good for?

CURVD Earplugs are perfect for a wide range of environments. Whether it's a noisy office space, busy commutes, bustling coffee shops, or open workspaces, CURVD Earplugs are designed to take the edge off and allow you to control the sound of your surroundings. They provide a softer and more pleasant auditory experience.

Can I order multiple colors/accessories for my team?

Certainly! We believe in self-expression, and that's why we offer a variety of colors and accessories for you to choose from. Each unit is individually packaged, allowing you to select different colors and accessories for your team. Let us know your preferences, and we'll strive to fulfill your requests and create a personalized experience for your team.
Do you customize the earplugs with my company logo?

While we currently don't offer custom logo customization, we believe that the CURVD brand seamlessly fits various environments and companies. However, if you have specific opportunities in mind and are looking to order for a sizable team (500+), we're open to discussing potential customization options. Reach out to us, and let's explore how we can best meet your requirements.
Do you still have questions about CURVD for your team?

Fill out the form above or if needed or email: sales@curvdearplugs.com and someone from the team will get back to you